Why the Dyfi
Creating a place for people to ride has always run alongside my career in racing; from building Dirt Jumps as a kid, to the Yard, Hardline… everything has led to here.

There have been a few potential places where I could have built, but none of them ever seemed totally right. In the end I kind of went back to the drawing board and decided to look for a whole new area to create my vision. Ultimately what I wanted was a blank canvas with maximum elevation.

And that's what I found here, in the Dyfi.

666m peaks and deep valleys to almost sea level. And we are so close to Machynlleth which is important for that community feel.

The people who live here have always embraced a different way of life, outside of the 9-5; around here mountain-biking isn't a nuisance, it's welcomed as a positive which brings new people into the area.

Mountain-biking had strong roots here long before I came along and that local support is vital in building the world-class destination that I've always dreamed of.

DAN

"It's not like anything I've ever ridden before, everything is so good to ride and its surprisingly easy to get here – right on the main road."
Local History
1983 The first BMX arrived in the Dyfi, and the boys start to build jumps in the woods. Ant

1988 Mountain biking comes to Dyfi. The first frames were being manufactured in UK, but they were out of our reach so we'd meet at my garage in Aberleffeni, fix up last week's crashes on the bikes we had then play in the woods for hours. Andy

1992 Someone got a van and we started uplifts. "The amphitheatre" is what we used to call today's World Cup track and it was even more bonkers back then. Three different rides led to the trailhead, more often than not we'd fall down it." Andy

2002 The First Dyfi Enduro, 380 riders went wild for an event built around the Dyfi trails, immediate feedback was super positive and sign-ups for 2003 rocketed. Joe Hayward

2005 British Single Speed Championship – we hosted this on the Climach-X trail, all entrants lay their bikes on the floor of the Climach-X carpark and headed down the hill for a compulsory tin of beer, of course we moved the bikes! It was a brilliant and very messy event. Fraz

2006 Rhugog National Point Series My first time working with landowners, building legally for an event. We had limited funds, it hammered with rain, it was raw and it was gnarly. I was one of the 50% who crashed out. Dan
2013 Dan moves to the Dyfi. I spent some time in British Columbia and was totally inspired to build that scene, but I wanted it here, with the people I care about. I'm pretty patriotic so I couldn't imagine this project taking shape anywhere but the UK. I traded Canada for Corris – and me and Gazzy B drove 300 miles around the forest looking for a place to live. Dan

2014 The first Red Bull Hardline was held in secret with 9 of the world's best riders sessioning a track with more features per metre than any race before. Dan wanted to remind people how gnarly mountain-biking could be and we found the perfect place to do it. Olly

2014 Digging starts at Esgair Forest. From the start, I knew that the riding here was so good that people would want to stay and explore. I've always envisaged an entire resort but it was such a huge undertaking that I pushed it to the back of my mind. We focused on one section of a track at a time, there's nothing more motivating than finishing up Friday night to ride on Saturday. Dan

2019 Dyfi Bike opens with 4 black trails.

"BIG MOUNTAINS, MUD, ROOTS, LOAM AND A WHOLE LOAD OF FUN... "
DYFI DIGGERS
No grants, no government funding, no sponsorships…just a group of local guys passionate enough to pour every hour they had into getting something done.

None of the crew had built tracks like these before. Steep, technical tracks are easy to picture and relatively quick to realise, the mellower gradient of the bike park meant drainage was key and getting down to bedrock often involved digging through a metre of bog

A 100m section of track could take weeks, there was no chance of lopping off a few branches and skidding the track in.


The other major challenge was the weather, not only that the crew worked in some truly dire conditions but they'd have to leave sections to dry out for weeks. Piecing sections together to visualise an end product was so hard, it was sheer belief that got them through that first year.

After a year, maybe two the project gathered momentum, whole sections became rideable and the dream was more tangible. Dan had always been able to call on a steady flow of willing helpers but now Dyfi Bike Park took on a life of its own.

It has taken us almost five years to get to this point. It takes a long time to build four tracks of 3Km+ on this type of terrain. But we're ready for you.
"One of my very favourite places on earth... so stunning."
MEET THE TEAM
Dan Atherton
Trail Demon
Olly Davey
Bridge Builder
Jamie Cable
Perfectionist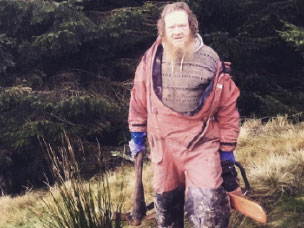 Ant Taylor
Caveman
Andy Taylor
Stump Puller
Sam Watson
Team DJ
Location
Dyfi Bike Park is based in the Esgair Forest three miles north of Machynlleth, just off the A487 towards Dolgellau It's clearly sign-posted from the main road at Pantperthog.
Address
DYFI BIKE PARK Pantperthog, Machynlleth, SY20 9AS
Email